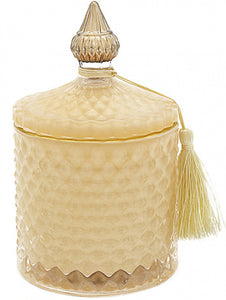 Desire Noir Lime & Basil Soy Candle


A luxe themed Soy Candle set within a diamond ridge decorated pot with added tassel feature 
Filled with a delightfully scented soy wax, this Desire Noir candle is sure to place perfectly in any home space 
Similar scents and sizes are also available 
15cm x 9cm x 9cm in size 
Once the candle is finished, you can clean and use the beautiful jar for storage and decoration.
To remove residual candle wax from the jar follow the directions below:
Use a butter knife or spoon to remove as much wax as you can. Pour boiling water into the container, leaving room at the top. (If your candle is made of soft wax, such as soy wax, you can use hot water that's not boiling.) The boiling water will melt the wax and it will float to the top. Let the water cool and remove the wax. Strain the water to get rid of any small wax bits. (Don't pour wax down the drain.) Scrape any remaining wax and clean with soap and water.